2022 Pancake Feed: August 20, 2022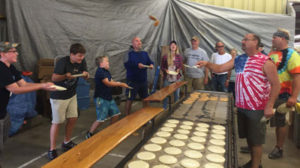 Flying pancakes make for fun for all at the REA Pancake Feed!
The end of August means many things to many people – back to school shopping, harvest season, the Douglas County Fair AND the annual Member Appreciation REA Pancake Feed. Held Saturday morning of the Douglas County Fair, the REA Operations Center plays host to the Pancake Feed. The Pancake Feed is the perfect opportunity to serve our members and their families a great breakfast. It's also a fun day to visit with friends and neighbors.