History of REA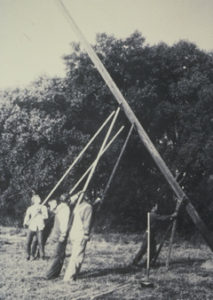 With the help of Franklin D. Roosevelt, who established the Rural Electrification Administration (REA) in 1935, friends and neighbors banded together to create a new kind of electric utility, where the voice of every person made a difference.
Electric cooperatives brought electric power to the countryside when no one else would. Today, America's electric cooperatives continue to answer that call. With the same focus on customer needs, today's electric cooperatives provide much more than competitively priced, reliable energy. They are committed to improving the quality of life in their communities and for the member-owners who live there.
Below is Runestone Electric Association's (REA) timeline:
Early 1930's – Franklin Delano Roosevelt writes: "There was only one discordant note …at Warm Springs (Georgia) – electric light for my little cottage was 18 cents a kilowatt-hour—about four times as much as I paid in Hyde Park, New York. That started my long study of getting electricity into farm homes."
FDR's electricity was expensive at Warm Springs but Minnesota Senator Henrick Shipstead's cabin on Lake Irene did not have electricity at all.
He asked the city of Alexandria to bring electricity to him. They told him they did not have enough power to service him.
In 1934, he personally told FDR that something should be done to bring power to rural consumers.
May 11, 1935, Franklin D. Roosevelt created the Rural Electrification Administration.
Douglas County Co-op Light and Power Association held its organizational meeting in August of 1935 and was incorporated in November 30, 1935.
REA's first General Manager Cliff Hove was determined to see a co-op started here.
Volunteers went door-to-door signing up farmers for $5 a share.
June 1st, 1937, construction began on the first line to serve 45 farms including Senator Shipstead's cabin on Lake Irene.
Douglas County Co-op Light & Power Association began from humble beginnings at the Douglas County Courthouse; to a building on north Broadway (currently Fort Alexandria); and to a an office in downtown Alexandria.
In 1948, the co-op changed its name to "Douglas County Electric" but the co-op was growing beyond Douglas County. In June of 1949, the name was finally changed to Runestone Electric Association.
Jump ahead +60 years and in 2013 REA relocated to a new headquarters building one mile south of I-94.
The history of REA continues to evolve. We invite you take a moment to watch the video below that was produced in 2010.