Rates
Runestone Electric Association (REA) electric rates and charges on members' electric bills reflect the following:
A monthly basic service charge, known as the fixed charge (representing a portion of the fixed costs of building, operating, and maintaining our power system)
Wholesale generation and transmission charges (the cost to purchase power from wholesale power suppliers)
Wholesale power cost adjustments (WPCA) (for variations in wholesale power costs)
Distribution charges (the cost to distribute power to members)
You will receive a bill each month from REA. Bills are issued on or before the 10th of the month and are due by the 25th or the closest following working day. Bills received after the due date will be assessed a five percent late payment charge. This charge will be waived if the account has been paid on time the previous 12 months.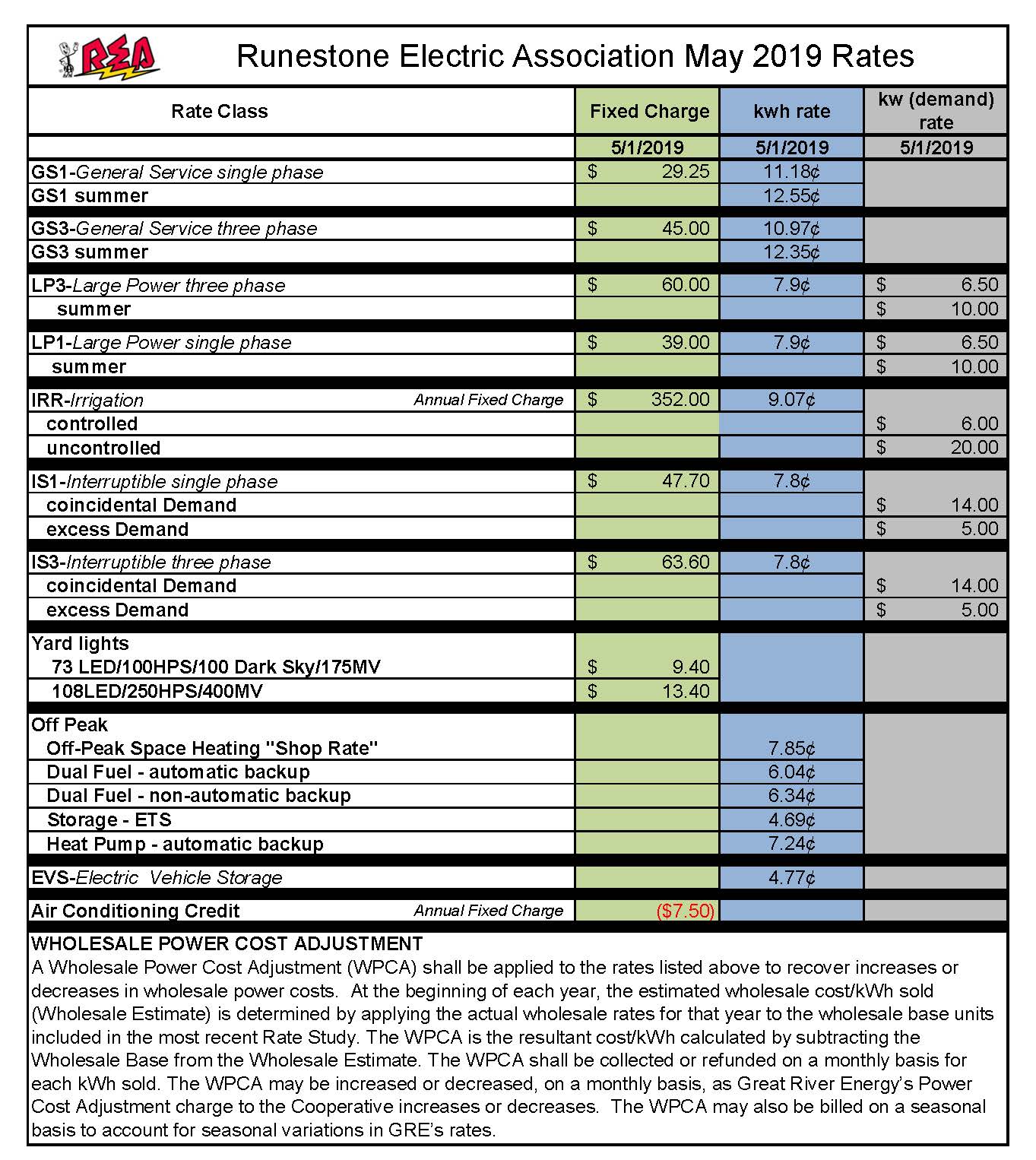 Fixed charge: The fixed charge is billed monthly and reflects a percentage of the fixed costs of providing service which is not directly related to the amount of energy purchased. These fixed costs include poles, wire, transformers, meters, substations, maintenance, depreciation, record keeping and other costs which go on, even when no energy is purchased.
Wholesale Power Cost Adjustment (WPCA): When needed, the WPCA fluctuates seasonally to reflect power costs for electricity. It is needed to absorb the increase in the cost of wholesale power purchased from Great River Energy (GRE), our power supplier.
Taxes: Our rates are based on taxes as of this date. The amount of any increase in existing or new taxes on the transmission, distribution or sale of electricity will be reflected in the bill.
Sales Tax: The sale of electricity is subject to Minnesota sales tax. In addition to Minnesota sales tax, county-specific taxes may apply. Tax exemption forms are available at our office for the following categories:
1. Residential – Where electricity is used as the primary (over 50 percent) source of heat, the entire electric service billing shall be tax exempt during the six heating months if you have one meter. On off-peak accounts with two meters, only the off-peak usage is tax exempt for this period.
2. Agricultural and/or Industrial – Electricity used for agricultural or industrial production shall be tax exempt as provided by Minnesota Statute 297A.25, Subdivision 1 (h).
3. Religious, government and charitable organizations, as provided by law.
Payment Options: We accept cash, check, cashiers check, credit card (VISA, MasterCard, and Discover), automatic bank payment and recurring credit card payment. Payments can be made by credit card 24 hours a day by calling 1-855-385-9907.
For your Convenience
Please use our drive-up drop box located in the parking lot of our office for check payments.
Terms of Payment: If the current bill is not paid by the 25th of the month following the date of the bill, a five percent late payment charge will be added to the current bill.
Off-Peak Heating Rate:
Available to all customers using an approved dual fuel or storage heating system. Service will be interrupted during peak demand periods requiring the customer to utilize a secondary heating system. Total hours of interrupted service will be limited to 400 hours per year. Rates subject to change by board action.
Availability: Off-peak service is available to all General Service Single Phase or General Service Three Phase customers for separately metered controlled space heating and water heating where electric service is also used for lighting and other purposes, and who agree to use this cooperative's service for space heating and water heating under the terms and conditions in the Energy Management Agreement. Enrollment in an off-peak space heating program is required in order to qualify for off-peak water heating rates.
Demand Charges: Demand charge is based on each customer's maximum "demand" on the cooperative's distribution system. "Demand" is the total amount of electricity being used at any one time and is measured in kilowatts (kW).
REA monitors this demand in 15-minute intervals on a monthly basis. That means the 15 minutes that your business is consuming (or "demanding") the most electricity in a given month establishes your demand for the month and you are billed accordingly.
Click here for more information on Large Power Accounts.