CFL Recycling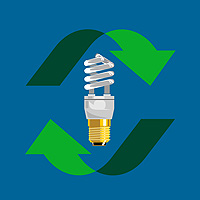 Because you are a member of REA, you are able to participate in a FREE fluorescent bulb-recycling program. By recycling fluorescent bulbs, you can help reduce mercury levels in our environment.
Most of us have fluorescent bulbs in our garages, shops and businesses. Used fluorescent and high-intensity discharge (HID) lamps require special care because they contain a small amount of mercury. Because it is important to limit the amount of mercury entering our environment, Minnesota law states that fluorescent bulbs cannot be disposed of with your garbage.
Instead, bring your fluorescent bulbs and HID lamps to Pope/Douglas Solid Waste Management (also known as the incinerator plant) located at 2115 S. Jefferson Street in Alexandria.
There is a 20-bulb limit per visit. Ballasts and other metal items will not be accepted. This is for bulbs only.
Pope/Douglas Solid Waste also accepts mercury thermostats and other mercury-containing items.
For more information, please call Pope/Douglas Solid Waste Management at 320-763-9340.