Annual Meetings
Runestone Electric Association holds an Annual Meeting each spring to update members on how their co-op is doing financially and operationally, to elect directors, and to transact business. It is an opportunity for members to learn more about their co-op, ask questions, and get educated on programs offered by Runestone Electric Association. Members are notified each year by mail and in the newsletter when and where the Annual Meeting will take place.

2019 Annual Meeting Report
Over 400 REA members attended the Runestone Electric Association 83rd Annual Meeting at the Alexandria Area High School on Monday, April 22. During the business meeting, Board President Barbara Johnson and CEO Kristin Dolan gave reports on the activities and financial condition of the cooperative. The Cooperative reported assets of over $91 million with nearly 14,500 accounts at the end of 2018.
"In 1935 it was, for some of you, your grandparents, parents, your relatives that came together with their neighbors. They agreed that electricity was needed in their homes and on their farms," explained REA CEO Kristin Dolan. "All of them recognized no one else was going to do this, so it was up to them. They brought electric service to this community of members today. REA literally is this community, a community you and those before you, built. Today we provide safe, reliable, and affordable electricity to you in a responsible manner.  No one can do it better than us because we know our community, we know us.  You and REA are this community," Dolan said.  Dolan also reviewed the upcoming member survey, Operation Round Up®, proposed bylaw changes, the May 1st rate changes, REA Energy Management programs, help provided to southern Minnesota cooperatives following the recent ice storm, and legislative challenges facing electric cooperatives.
REA Board President Barbara Johnson provided an overview of programs and activities at the Cooperative. She also provided insight into the director's role at an electric cooperative. "As your elected board of directors, we have oversight responsibility to you, our members. I can assure you that each month we review the financial statements, the monthly and year-to-date operating report, the balance sheet, the operating ratios and all the disbursements for the month. We also hire an outside accounting firm to do a financial audit each year. We take our responsibility seriously to be accountable to all of you."
Guest speaker of the evening, Rick Lancaster, Great River Energy Vice President & Chief Generation Officer, reviewed Great River's strong financial year, cash back of patronage capital to member cooperatives, and the successful reduction of carbon dioxide at GRE power plants. Mr. Lancaster shared lessons learned during the polar vortex, GRE's power supply goal of 50% renewable energy by 2030, and innovations to electrify the economy. He also discussed concerning legislation involving the Conservation Improvement Program and efforts to be 100% carbon-free by 2050. President Johnson accepted a $1,000 donation from Mr. Lancaster on behalf of Great River Energy for the Operation Round Up® program.
A highlight of the meeting was the presentation of nine scholarships to nine high school seniors.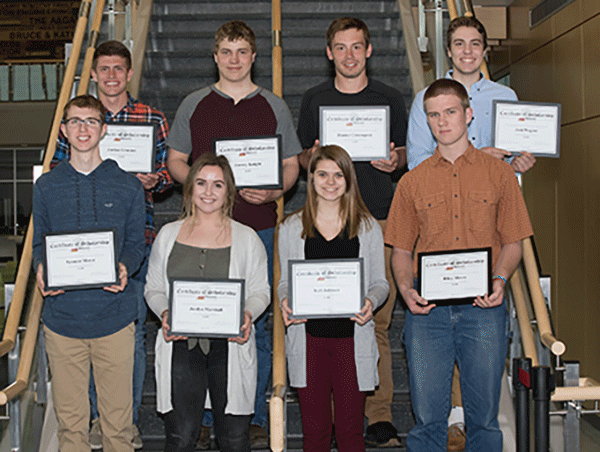 Scholarship recipients include:
Hunter Croonquist, son of Chad & Lois Croonquist, Alexandria
Jordan Gruenes, son of Joseph & Stephanie Gruenes, Clear Lake
Kali Johnson, daughter of Kristin Johnson, Barrett and Lance Johnson, Evansville
Jeremy Knight, son of Kevin & Nancy Knight, Alexandria
Jordyn Marshall, daughter of John & Connie Marshall, Alexandria
Josh Wegner, son of David & Angela Wegner, Alexandria
Spencer Meyer, son of Gary & Kristie Meyer, Melrose
Riley Moore, son of Paul & Cheri Moore, Hoffman
Derek Dalen, son of Carlyle and Leslie Dalen, Mason City, IA
Director election results were announced during the meeting. Incumbent District 1 Director Gary (Andy) Anderson of Parkers Prairie ran unopposed and was re-elected for a three-year term. A new board member was elected in District 4 to fill the open seat due to a director choosing not to seek re-election.  David Staples of Kensington was elected for a three-year term in District 4. Other candidates from District 4 included Rod Borden, Farwell; Terry Detloff, Farwell; and David Lemmon, Farwell. Retiring REA director, Ron Holm, was recognized for his 33 years of service representing District 4 on the REA board.
In addition to the board of director's election, REA members approved proposed changes to the Cooperative's Articles of Incorporation and Bylaws.
Immediately following the adjournment of the annual meeting, the board of directors held a re-organizational meeting to elect officers for the coming year. Elected to their positions were Barbara Johnson from District 2, President; Clif Patrick from District 6, Vice President; Gary (Andy) Anderson from District 1, Secretary; and Mike Loken from District 4, Treasurer. Other directors on the board include Audrey Hjelle, Steve Pederson, and David Staples.