Energy Usage Questions?
Borrow a Kill-A-Watt Monitor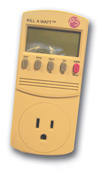 Take charge of your energy use and save money on your electric bill. The  Kill-A-Watt Electricity Usage Monitor will help show you which appliances and equipment are consuming more power and draining more dollars. Should you replace your old appliances with new Energy Star® models? Simply plug the monitor into any wall outlet and plug the appliance into the kill-a-watt to determine its energy consumption. You can calculate your electrical expenses by the day, week, month or year, and start making decisions about your lifestyle choices.
Kill-A-Watt monitors are available for use, free of charge, to REA members. Simply stop by the office to pick one up. Borrow it for a week or two to determine the energy hogs you may have in your home.