What to Know Before You Dig
Member-Owned Powerlines
The Gopher State One Call System locates utility-owned underground facilities. Runestone Electric will locate all powerlines up to the metering point.  All powerlines from there to your home and other buildings are your property, and other provisions must be made to locate these. Your electrical contractor or a powerline locating service is able to locate your powerlines for you. A list of private powerline locators can be found at http://www.gopherstateonecall.org/about-gsoc/industry-directory
Member-owned powerlines can be located by your electrical contractor.
Member-owned powerlines are marked in orange in the drawings.

Call Before You Dig 1-800-252-1166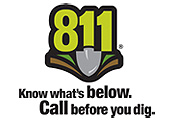 If you are planning a digging project more than one foot in depth, it is YOUR responsibility to notify Gopher State One Call who will notify all parties that may have underground facilities in the area. In the past, you had to call the phone company, the power company, the gas company, the cable TV company, etc., to accomplish this. With Gopher State One Call, you just make one call,
1-800-252-1166 or requests can be made on-line at www.gopherstateonecall.org.
The Gopher State One Call Notification Center will take the responsibility of notifying all affected utilities within 48 hours of your call.
When you call, have the following information ready:
Who is doing the digging and their phone number?
Type of work being done?
For whom the work is being done?
Street address or township, section and quarter.