REA offers the latest technology to help you manage your electric account 24/7 by computer or smartphone with a free online application called SmartHub.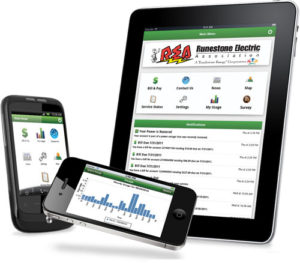 With SmartHub, you can:
• Make a payment
• View current and past bills
• View energy usage
• Analyze your past and current usage
• Utilize tools to help you conserve energy
• Go paperless
• Sign up for automatic payment options
SmartHub is easy to navigate. It's simple and quick to make a payment or view your meter data. You can compare bills and find out when you typically use the most electricity.
Instructions on signing up for SmartHub
Signing up for SmartHub is simple! Follow these three steps:
Step One:
Go to the Smarthub Login page by either:
1. Clicking here
2. Click on the "View & Pay Bill with Smarthub" on the REA homepage
Step Two: 
On the SmartHub login page, you will click on "Sign up to access our Self Service site" that's located right next to "New User?".
Step Three: 
Fill in the required information* and click submit.
* Helpful Hint: You will need your account number and an email adress to create an account
Not sure what your account number is?
No problem! Your account number is located on the bottom portion of your bill OR feel free to call the office to get that information.
Check out this short video on how to use SmartHub
Free iTunes or Android App
Members with smartphones or tablet devices can download the SmartHub app from iTunes or the Android Marketplace. The app allows you to make a payment or view your usage while on the go. Pay as you Go participants can even see their average daily bill.