Runestone Electric Association's rates and policies are the responsibility of an elected seven-member board of directors. As a co-op member, you are entitled to vote for the director from your district every three years. Any member residing in the district may seek the position of district director. Your directors are your voice in the operation of your co-op. Director qualifications are set forth by REA's bylaws.

District One 
Gary (Andy) Anderson, Board Secretary
17458 E Lk Vermont Rd NE
Parkers Prairie, MN 56361
(218) 943-6100

District Two 
Barbara Johnson, Board President
14869 Miltona West Rd NW
Miltona, MN 56354
(320) 834-2498

District Three
Audrey Hjelle, Director
20340 180th. Ave.
Barrett, MN 56311
(320) 528-2383
District Four 
David Staples
17357 Co Rd 107 Sw
Kensington, MN 56343
(320) 491-6697

District Five 
Mike Loken, Treasurer
8620 Co Rd 8 NW
Alexandria, MN 56308
(320) 834-3472

District Six
Clif Patrick, Board Vice President
13133 E. Lovers Lk Rd SE
Alexandria, MN 56308
(320) 554-7163
District Seven
Steve Pederson, Director
12113 340th Ave
Farwell, MN 56327
(320) 283-5461
Runestone Electric Association's service territory is divided into seven districts. Each district elects a representative to serve a three-year term on the board of directors. The map below shows districts as they are defined by township.
Townships by District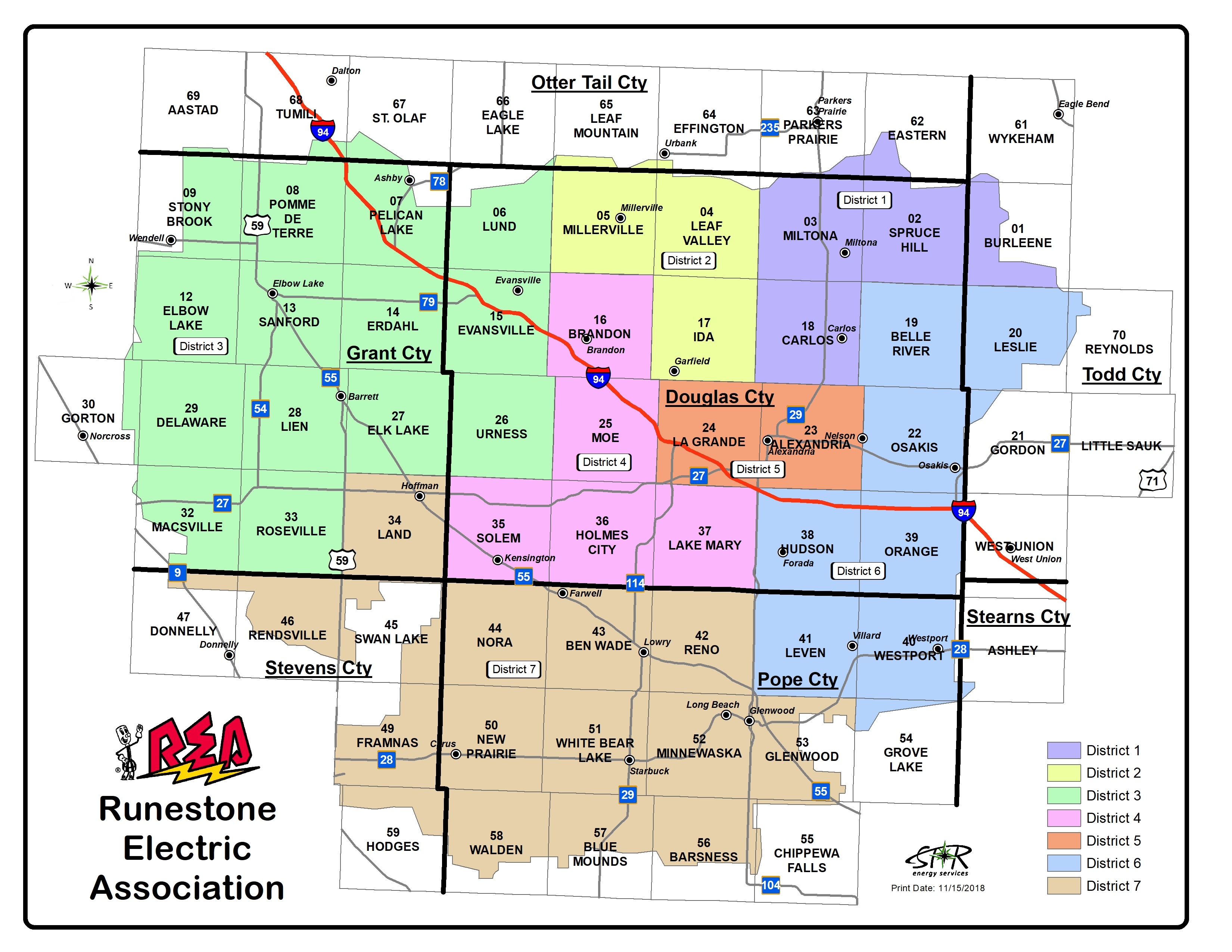 Election Cycle:

Districts 1 & 4: 2019
Districts 3, 6 & 7: 2020
Districts 2 & 5: 2021