Planting Guidelines
Landscaping is a great way to increase the value of your property and save energy, but trees and shrubs planted too close to power lines and other electrical equipment can create both safety and reliability concerns. You can help maintain power line access and clearance by planning ahead before planting trees and shrubs. These guidelines help ensure a safe and reliable service for all Runestone Electric members.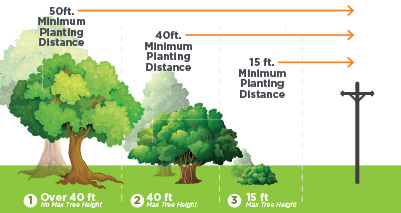 1 – Trees over 40 feet
These trees must be planted at least 50 feet from the electrical wires and no closer that 35 feet from buildings to allow proper root development and minimize root damage to buildings
2 – Trees under 40 feet
These trees may be planted 40 feet from electrical wires, but no closer
3 – Trees under 15 feet
These trees may be planted 15 feet from the electrical wires, but no closer.
Quick Tip! Please do not landscape or install fences near REA's pad mount transformers, junction boxes or at the base of power poles. Our crews need plenty of space to access this equipment. Thank you!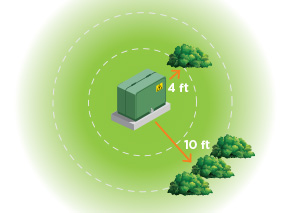 Pad Mount Transformers
Mature trees, shrubs, and plants need to maintain 10 feet of clearance in front of doors and 4 feet on all other sides of the box.
Tree Trimming
Runestone Electric Association (REA) has an extensive right of way tree clearing program. Contracted crews systematically inspect trees within our service area to manage trees that pose a problem for system reliability and to ensure the safety of our members.
Clearance Needed
When trimming, REA seeks to obtain a minimum of ten years of clearance, but the clearance needed depends on the voltage of the wires. The recommended clearance from the tree to power lines is 15' on all sides.
Tree Removal
Fast-growing, tall trees (such as elms, willows, silver maples) located directly under primary wires can cause repeated outages. To prevent repeat outages and keep the cost of our services down, we prefer to remove these trees rather than frequently prune them. A representative of the tree contractor hired by REA will notify the property owner before removing a tree.
Brush Clean-Up
REA contractors will clean up brush from a related trimming, but this does not include additional dead/diseased trees, brush/wood from a member's property, or debris resulting from a storm or emergency trimming.
Member Requested Tree Trimming
When a member has concerns about a tree in their yard or would like assistance in removing a tree, REA will provide services to obtain its standard clearances from the line. If acceptable line clearance already exists, REA can assist the member by temporarily disconnecting the line to allow the tree work to be completed. When this work falls outside of the regular maintenance cycle, disposal of debris is the responsibility of the member.
All lines beyond the meter location belong to the member and tree clearance on those lines is the member's responsibility. REA recommends hiring a professional, line-clearance certified tree contractor when tree work near electrical conductors is necessary. Please contact call REA at 1-800-473-1722 at least 48 hours prior to schedule a de-energizing appointment.
Storms and Outages
If a tree causes an outage the line crew or tree crew will clear the tree parts from the line. Debris disposal is the responsibility of the property owner.