Annual Meeting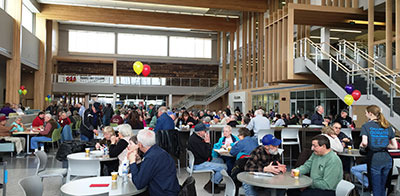 Election of directors takes place at the Annual Meeting, held early in the spring. Before the annual meeting, all members receive a copy of the co-op's financial report and mail ballots for any voting activity taking place that year. In addition to voting for their directors, members must also approve any By-law revisions which may be proposed from time to time. The annual meeting is the official day set aside each year for members to tend to the business of their co-op.
Summary and Results of the 2017 Annual Meeting
Request a copy of the Annual Report
2018 Annual Meeting
Come to Annual Meeting and receive a $25 gift certificate to a participating REA member business!
For the first time in the history of the co-op, the Annual Meeting will be held on a Thursday night. Make plans to attend the 82nd REA Annual Meeting on Thursday, April 19 at the Alexandria Area High School. Registration will open at 6:00 p.m. and the meeting will start at 6:30 p.m.
District Meetings were held January 22 and 23 to nominate one or more candidates for the office of director of Runestone Electric Association. Candidates could also be nominated by petition of fifteen or more members within fifteen days of the District Meeting date.
Nominating results:
District Two: Barbara Johnson, Miltona and Patricia Ferguson, Miltona
District Five: Bill O'Brien, Nelson and Mike Loken, Garfield
Members of Districts 2 & 5 may vote for the candidates at the Annual Meeting or by using the mail ballot they will receive in early April. For more information, please contact REA at (320) 762-1121 or (800) 473- 1722.
Each membership attending will receive a $25 gift certificate
that can be redeemed at one of the following
businesses:
Lake Café at Arrowwood Resort
Burr Vineyards
Carlos Creek Winery
Eagleview Winery
Gas Mart of Carlos
Chet's Lakeside Inn
Country Blossom Farm
Erickson's Petting Zoo
Jim & Judy's
Lake Reno Bar & Grill
Long Lake Lodge
Gas Mart of Miltona
Miltona Golf Club
Nordic Trails Golf Course
Tipsinah Mounds Country Club
Selective TV