Coal Creek Tour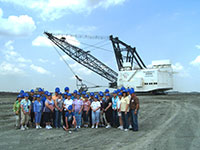 2018 will mark the 45th Annual Coal Creek Tour hosted by Runestone Electric Association!
The educational, fun-filled tour fills up fast. Call today to register for the 2018 Coal Creek Tour departing for Bismarck, ND, on Wednesday, June 27 and returning Friday, June 29. The cost is $150 per member for double occupancy or $200 for single occupancy. This amount is applied toward the cost of the transportation, lodging, four meals and all tours. Other meals and expenses are "on your own."
Stops on the tour include:
• North Dakota Heritage Center
• Coal Creek Station
• Blue Flint Ethanol Plant
• Falkirk Mine
• Garrison Dam & Fish Hatchery
• Jamestown Frontier Village
For more information, or to sign up, call the REA office at (320) 762-1121, (800) 473-1722 or contact us. Space is limited. Call today!