Co-op Connections Program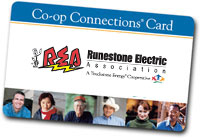 As a member of Runestone Electric Association, your Co-op Connections card/key fob, is your source for exceptional discounts from area businesses and national retailers.
Use the card daily, monthly or as often as you would like. And if you travel outside the Runestone Electric Association service area to other parts of the USA, be sure to take your Co-op Connections card along.
Co-op Connections Discounts 
Additional information
Lost your card / key fob? 
Request a new card here
Sign my business up!
Include me as a participating business
Click here to sign up