The bill you receive in November reflects a $51 monthly fixed charge for general service accounts and a $.0969 per kWh energy charge. Other rate classes will experience changes as well.
We have spent the past year talking about the fixed charge and explaining the gap between the basic cost of service ($51 per account per month) and the former monthly fixed charge ($29.25 prior to October 1st). With the new fixed charge of $51, the cost of service is now accurately reflected.
I have said it in the past, and I continue to believe this historic decision to change the fixed charge will serve our members well in the future. After reviewing your bill, please don't hesitate to contact our office with questions you may have.
Financial assistance
Inflation and the increasing cost of just about everything is stressful for everyone. Don't hesitate to contact our office if you are facing financial difficulty, and we will work with you to set up mutually agreed-upon payment arrangements. It is also essential to seek out the energy assistance provider that serves the county where you live. You can find a list of energy assistance providers by visiting the financial assistance page on our website (www.runestoneelectric.com) or simply call our office at 800-473-1722. It is extremely important to seek help before you fall behind.
-Al Haman, CEO
Rate changes will appear on the bill you receive in November. Interruptible Service and Peak Alert Service Rates available by contacting REA.
* Where do I find my January or July kWh Usage (General Service Rate)
Finding the kWh info on your physical bill: 
Find the line item "Energy – Main Meter" and use the kWh listed there. (No need to input Off Peak kWh since that rate will not be changing) See highlighted below: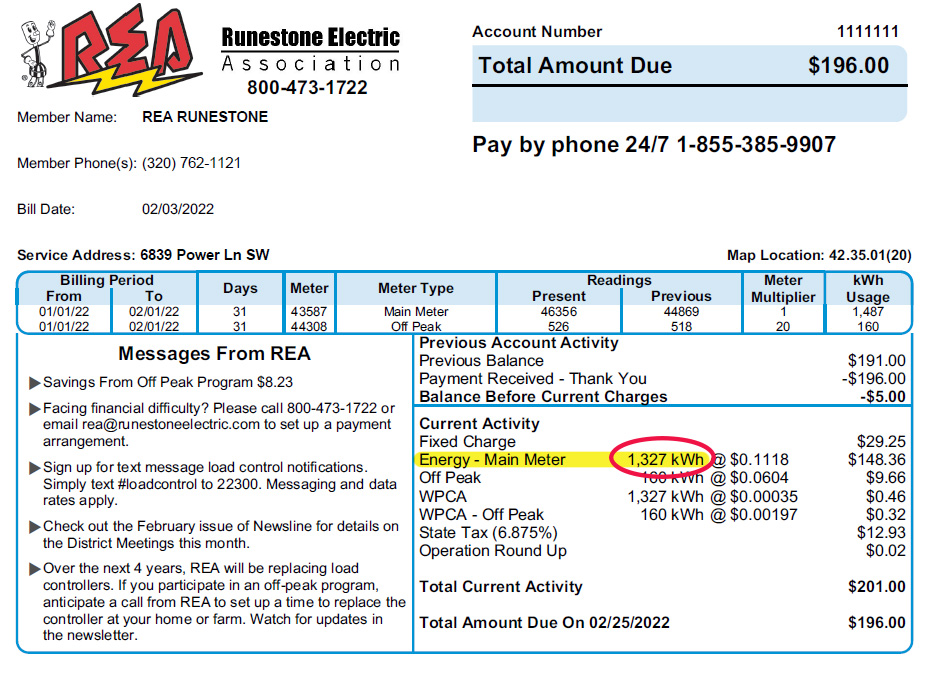 Finding the kWh info in SmartHub: 
Log into SmartHub, go to "My Usage" and then "Usage Explorer". Hover over the desired month and it will give you the kWh usage. (No need to input Off Peak kWh since that rate will not be changing) Use the info in GREEN as that is your main meter. See below: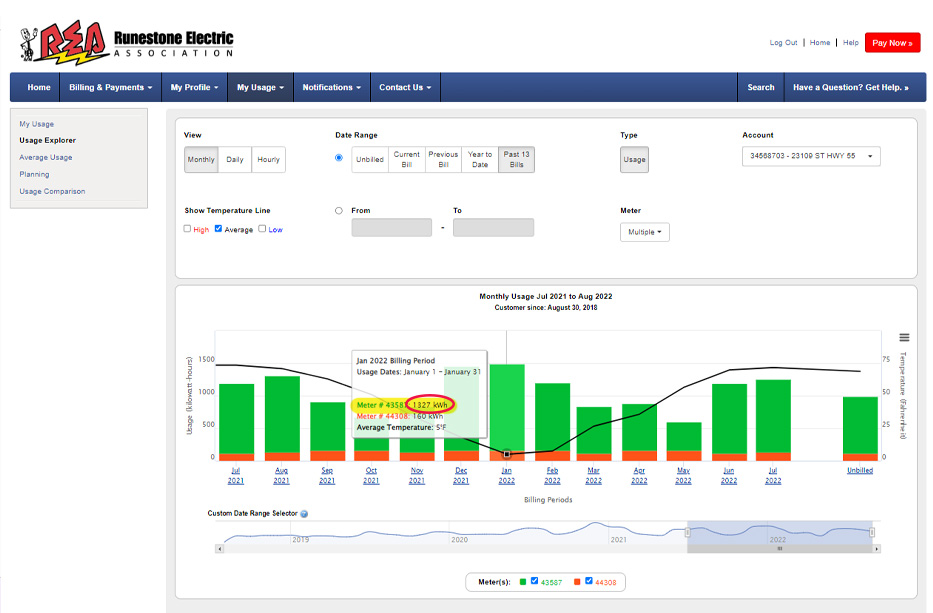 Frequently Asked Questions
What is the fixed charge?
REA recovers a portion of the cost of building and maintaining electrical service at each account through the fixed charge. These costs include poles, wire, transformers, tree trimming, meters, substations, equipment and administrative costs. The fixed charge is included on all member bills regardless of how much or how little energy is used each month.

How much does it cost to power one light bulb?
A cost of service study determines the monthly cost for each member account to power one light bulb on REA's system. If one member uses 1 kWh of electricity and another member uses 1,000 kWh, REA still incurs the same cost to build the line, maintain the distribution system and deliver electricity to both members. REA's most recent cost of service study indicated a general service residential or seasonal account requires monthly revenue of around $51 to cover the minimum expense for lighting one light bulb.

Why is a change in the fixed charge needed?
The current fixed charge of $29.25 covers a portion of the $51.00. The remaining $21.75 is built into the cost per kilowatt-hour (kWh) of electricity and collected through sales volume. Our goal is to better align the actual cost of providing service.