After months of discussing the need to align the monthly fixed charge more closely with the cost of serving each REA account, the Board has voted to proceed with the change as of October 1st. The bill you receive in November will reflect a $51 monthly fixed charge for general service accounts and $.0969 per kWh energy charge. Please see the charts below for a summary of changes to various rate classes.
We started looking at the gap between the basic cost of service ($51 per account per month) and the monthly fixed charge ($29.25) back in April of 2021. In October, REA's senior management and REA's Board of Directors participated in a strategic planning session where we specifically focused on our cost of service, wholesale power supply, and rate structure. Coming out of that session, we agreed to explore aligning the minimum cost of service with the monthly fixed charge in an intentional, planned way.
We have been talking about the fixed charge for many months. Members have had the opportunity to express their concerns at the District Meetings, the Annual Meeting and the Member Advisory Council. I have asked for and received member input and shared all the comments with the Board.
One common theme expressed by members has been fairness. With fairness in mind, let me explain one of our most compelling reasons for needing to increase the fixed charge. Currently, our monthly fixed charge is $29.25 per general service account, which covers a portion of the basic cost of service ($51). The remaining $21.75 is built into the cost per kilowatt-hour (kWh) of electricity and collected through sales volume. By increasing the fixed charge to $51, we fairly distribute the basic cost of service across the membership rather than relying on energy sales.
Of our 15,000 accounts in the residential/seasonal rate class, nearly 2,000 accounts use less than 100 kWhs per month. For comparison, an average home on REA's system uses around 1,000 kWhs per month.
Regardless of how much electricity is actually used, there is a minimum cost of service to have electricity available when a member wants it. We know that the cost is currently $51 per month. Government policymakers are pushing utilities, like REA, to sell less electricity – whether through energy conservation or by incentivizing backyard generators (solar panels, wind turbines, etc.). The recently passed Inflation Reduction Act of 2022 is but one example of this effort at the Federal level. Having a rate structure where REA's basic cost of doing business is largely tied to the volume of sales isn't sustainable anymore. We need to become less dependent upon the volume of sales, which can open us up to better meet member needs in the future.
I am convinced this historic decision will serve our members well in the future. It moves us into a fair rate environment, secures additional financial stability for the cooperative, and prepares us to deal with a regulatory environment which is beyond our control.
-Al Haman, CEO
Rate changes will appear on the bill you receive in November. Interruptible Service and Peak Alert Service Rates available by contacting REA.
* Where do I find my January or July kWh Usage (General Service Rate)
Finding the kWh info on your physical bill: 
Find the line item "Energy – Main Meter" and use the kWh listed there. (No need to input Off Peak kWh since that rate will not be changing) See highlighted below: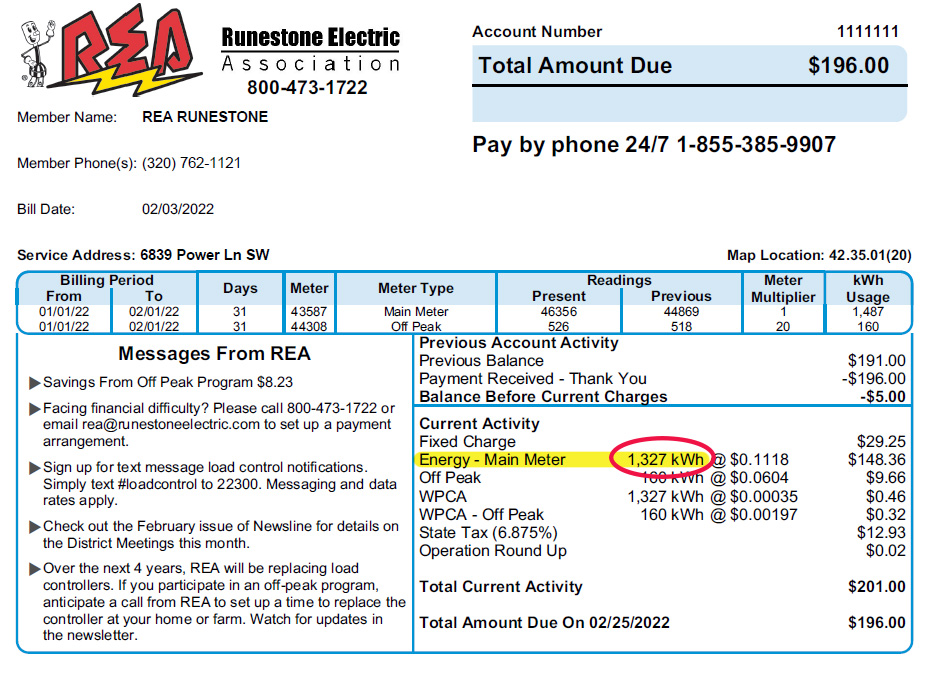 Finding the kWh info in SmartHub: 
Log into SmartHub, go to "My Usage" and then "Usage Explorer". Hover over the desired month and it will give you the kWh usage. (No need to input Off Peak kWh since that rate will not be changing) Use the info in GREEN as that is your main meter. See below: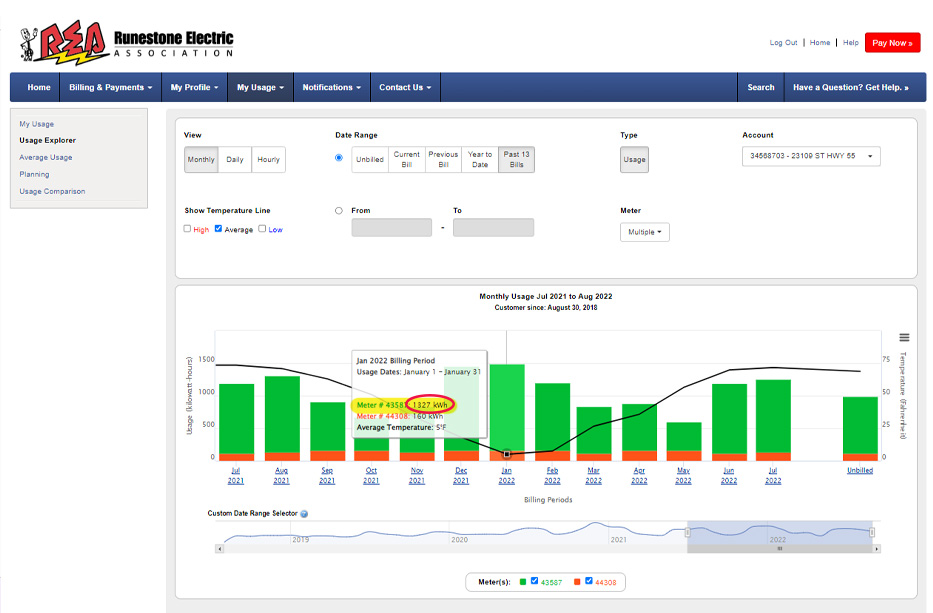 Frequently Asked Questions
What is the fixed charge?
REA recovers a portion of the cost of building and maintaining electrical service at each account through the fixed charge. These costs include poles, wire, transformers, tree trimming, meters, substations, equipment and administrative costs. The fixed charge is included on all member bills regardless of how much or how little energy is used each month.

How much does it cost to power one light bulb?
A cost of service study determines the monthly cost for each member account to power one light bulb on REA's system. If one member uses 1 kWh of electricity and another member uses 1,000 kWh, REA still incurs the same cost to build the line, maintain the distribution system and deliver electricity to both members. REA's most recent cost of service study indicated a general service residential or seasonal account requires monthly revenue of around $51 to cover the minimum expense for lighting one light bulb.

Why is a change in the fixed charge needed?
The current fixed charge of $29.25 covers a portion of the $51.00. The remaining $21.75 is built into the cost per kilowatt-hour (kWh) of electricity and collected through sales volume. Our goal is to better align the actual cost of providing service.