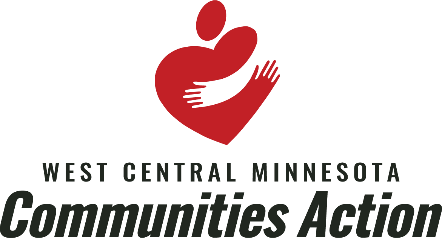 Located in Elbow Lake, West Central Minnesota Communities Action Inc. offers a Home Care and Repair Program. This program provides various homemaking, chore and maintenance services by volunteers and a full-time maintenance provider. The service is offered to help adults 65 and older maintain their independence at home. Basic cleaning, grocery shopping, yard work, mowing and raking leaves, shoveling, snow blowing and light maintenance are just a few examples of services offered. The program is available to residents of Douglas, Grant, Pope, Stevens, and Traverse counties.
According to Judy Oatman, the Home Care program means the difference between her being able to continue living safely in her home and having to move because she cannot perform tasks by herself.
It also means she doesn't have to worry about her dog, Gussie. Gussie has been her companion since her husband passed away and is always at her side. Judy stated she doesn't know what she would do without him.
"Lead Maintenance Provider John Jirik, is like family to me; he is a gift from God and meant for this position," said Oatman. "He always goes above and beyond for me and explains things without making me feel incapable of figuring things out. Without this program, I would not be able to stay in my home."
Home Care and Repair Program has an annual cost-sharing fee that each client pays and a per-hour charge for tasks. The cost per hour is based on net income. To learn more about Home Care and Repair program, please call 218-685-7008.