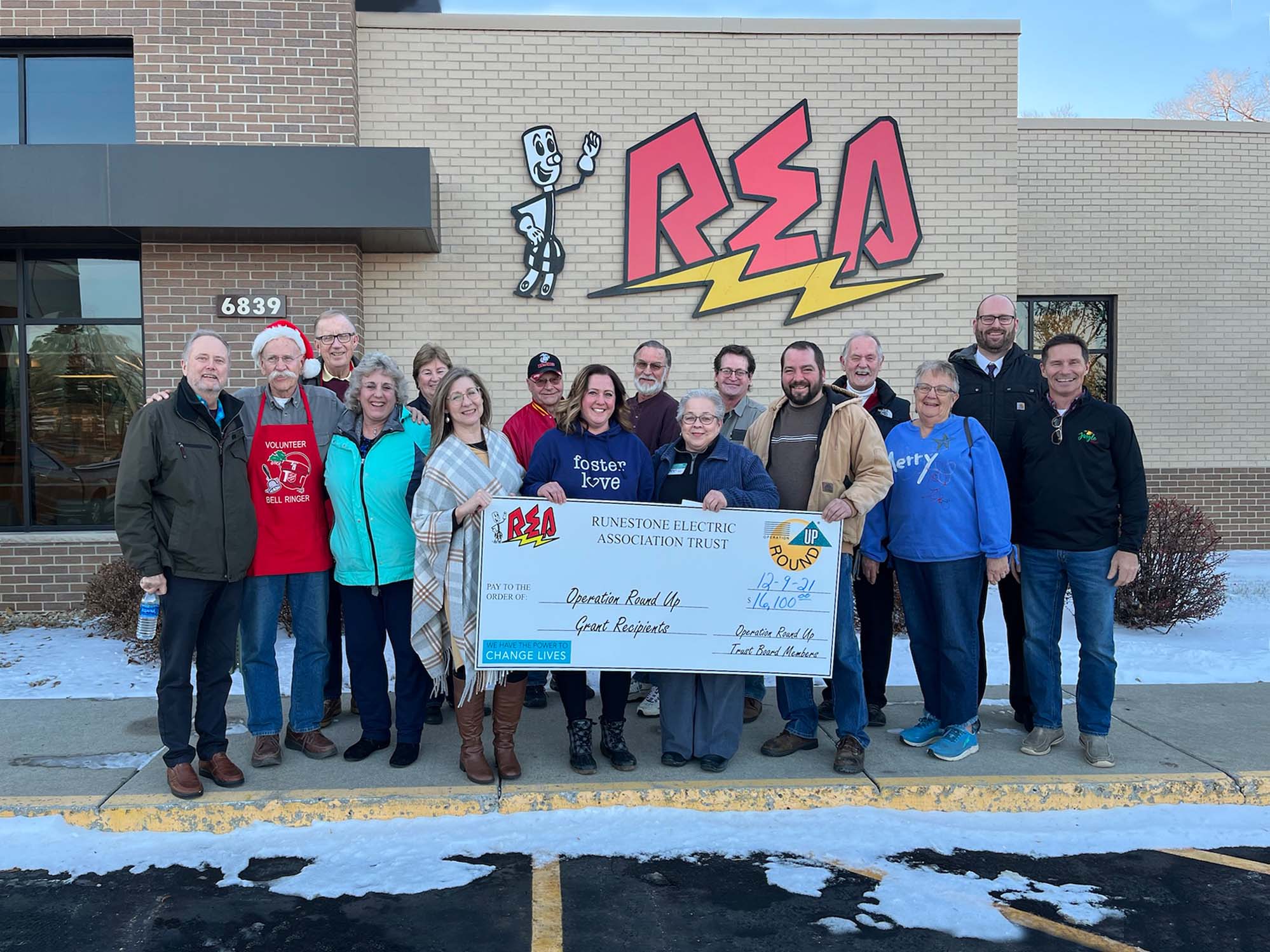 Representing some of the organizations receiving Operation Round Up® grants in December (front row from left to right): Holding the check: Leigh Nelson, Someplace Safe; Tanya Winter, Foster Closet Grant County; Connie Fields, Early Childhood Initiative; and Eric Sawatzke, WCA Ag Boosters. Back row from left to right: Al Glaeseman, Douglas County HRA; Roger Schultz, Dave Schultz and Donna Ortendahl, Salvation Army; Venessa Bruggeman, Honor Quilts; Grant Haugen, Toys for Kids; Rod Borden, Operation Round Up Trust Board member; Tim Lange, Lake Amelia Cemetery; Check Wencl, Red Willow Arts Coalition; Janet Johnson, Operation Round Up Trust Board member; Matt Gilbertson and Joe Korkowski, Jingle Bells Telethon.
YOUR Small Change is Making BIG Change in Our Communities! 
Through the contributions of REA's participating members, the Operation Round Up® Trust Board recently approved $16,100 to assist local community programs during its quarterly meeting.
REA's Trust Board, a voluntary board of seven REA members, reviewed and considered 24 grant applications and distributed funds to 18 projects and programs this past quarter. Community-based projects and programs have received more than $1 million since the program's inception in 2003.
The deadline to apply for the next round of funding is February 11, 2022.
Complete the application form »
Here are the Programs that received funding this quarter: 
Fire Departments & First Responders:
Donnelly Fire & Rescue ($1,000)
Youth:
 Toys for Kids ($700)
Early Childhood Initiative ($1,000)
Alexandria Youth Football ($200)
WCA Ag Boosters ($500)
Alexandria Figure Skating Club ($250)
Community:
Salvation Army ($1,500)
Foster Closet Grant County ($1,000)
Central Lakes Concert Association ($250)
Red Willow Arts Coalition ($500)
Evansville Community Club ($250)
Honor Quilts ($1,000)
Someplace Safe ($1,000)
City of Wendell Santa Day ($250)
Lake Amelia Cemetery ($250)
Douglas County HRA ($500)
Jingle Bells Telethon ($2,500)
True Friends ($850)
26 area cemeteries ($2,600)