Director Spotlight:

Audrey Hjelle
Audrey Hjelle is the District 3 Director, representing the North West region of REA's service territory. Audrey is more than a director though, she is a mom, a grandma, a tractor enthusiast, and more. Get to know more about Audrey in the interview below:
How many years have you been on the board?
I have been on the REA board for 24 years. I was the first woman to be elected to the board and the first female to be secretary and president. I am also the first woman to be elected to an executive office (secretary) on the Great River Energy board.
Where do you live?
I live on a farm in Lien Township just west of Barrett. It is a century farm and has been in the Hjelle family since
1887. Where is your hometown/high school? I was born in Fulda, MN and graduated from Hoffman High School.
Tell us about your family.
I met my husband, Tom, at the Grant County Fair in Herman. Tom passed away in 2015. My son and his wife farm the family land and my daughter recently moved to the area after retiring. I have two grown granddaughters and five "grand" kittens.
What is your passion as a board member?
My passion is to have safe, affordable and reliable electricity. Safety first for our crews and our members is my priority.
What keeps you busy outside of being a director for REA?
I mow A LOT! I still help with farming. If they need a grain cart driver, parts runner or just a ride now and then, I'm their gal. I still like the old tractor and thresh- ing shows. Each fall I work at the Lake Region Threshers Show in Dalton. I am involved at church and the Barrett senior citizens group. I still embroider dish towels and donate them to the community center, church and whoever needs them. I am also on the Great River Energy board and the Cooperative Network board.
Three words that best describe you:
Friendly, Caring, Trustworthy
What is the best advice you've either given or received?
Listen and keep an open mind. There is always two sides to every issue.
What is something others might not know about you?
I just found out I am not all German. My DNA test said only 54.2% – quite a surprise!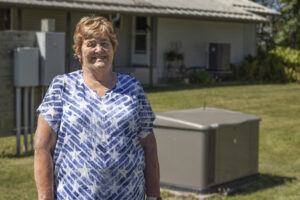 What is your favorite REA program?
I have two favorite programs – Operation Round Up and the generator program.
Operation Round Up has been great for our communities and it is amazing what pennies can do. I first heard about the program at a national meeting years ago and thought it would be great for REA. It has been great, and we will hit the million-dollar mark in donations this year!
Learn more about Operation Round Up »
Second, I love the generator program. Once a year the REA technicians come out and change the oil and check everything for me. Peace of mind is important especially when you live alone!
Learn more about REA's Standby Generator Program »
BONUS! Fun Questions
Tractors – Red or Green?
ORANGE – Allis Chalmers is my brand!
Lefsa – Sugar or No Sugar?
Sugar of course.
Do you say Wash or Worsh?
Wash
Check out the video: