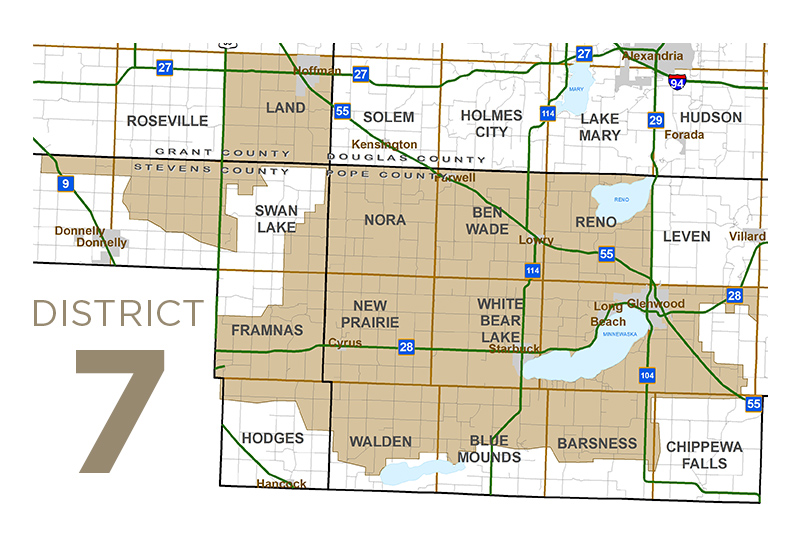 A message from CEO Kristin Dolan:
The REA Board of Directors is grateful to have District 7 represented once again. We dearly miss Steve Pederson who previously represented District 7. Steve passed away in May after a long and courageous battle with cancer.
The board did not want District 7 to go unrepresented for an extended period of time. Following the REA Bylaws for board vacancies, they moved forward with the director appointment process. The candidate selected through this process will complete the term for District 7 through the spring of 2020.
In July, REA advertised for members of District 7 to apply for the open director seat. In early August the Board interviewed the director candidates and selected Brad Burklund from Starbuck. Brad will serve in the director position until REA's next annual meeting, which will be held in the spring of 2020. At that time the District 7 seat will be up for election by the members of District 7.
The REA Board of Director election process starts with the nomination process. Nominations for board seats happens at our District Meetings that we generally hold each January. At the District Meeting, qualified candidates are nominated for their name to be placed on the ballot. Once the nomination process is complete, ballots are mailed out to the members of the district up for election. Members can vote by mail or bring their ballot to the Annual Meeting to cast their vote. The districts up for election next year are Districts 2, 5 and 7.
We encourage all interested members who are qualified to consider running for the director position within your district. If you are interested in learning more about the role of the REA director position, please contact us the Cooperative.
About Brad
Family: Brad and his wife, Sandy, have been married 38 years and have 3 adult children and three-year-old twin granddaughters.
Past Work Experience: 10 years teaching high school agriculture; 25 years Minnesota State Colleges system teaching Farm Business Management; 2 years Ag Lending Bremer Bank.
What brought you to the Starbuck area? "We have been coming to Lake Minnewaska for the past 35 years with friends and bought a small cabin near Starbuck 20 years ago. We have come to really appreciate the area and we decided to build a new home and retire here."