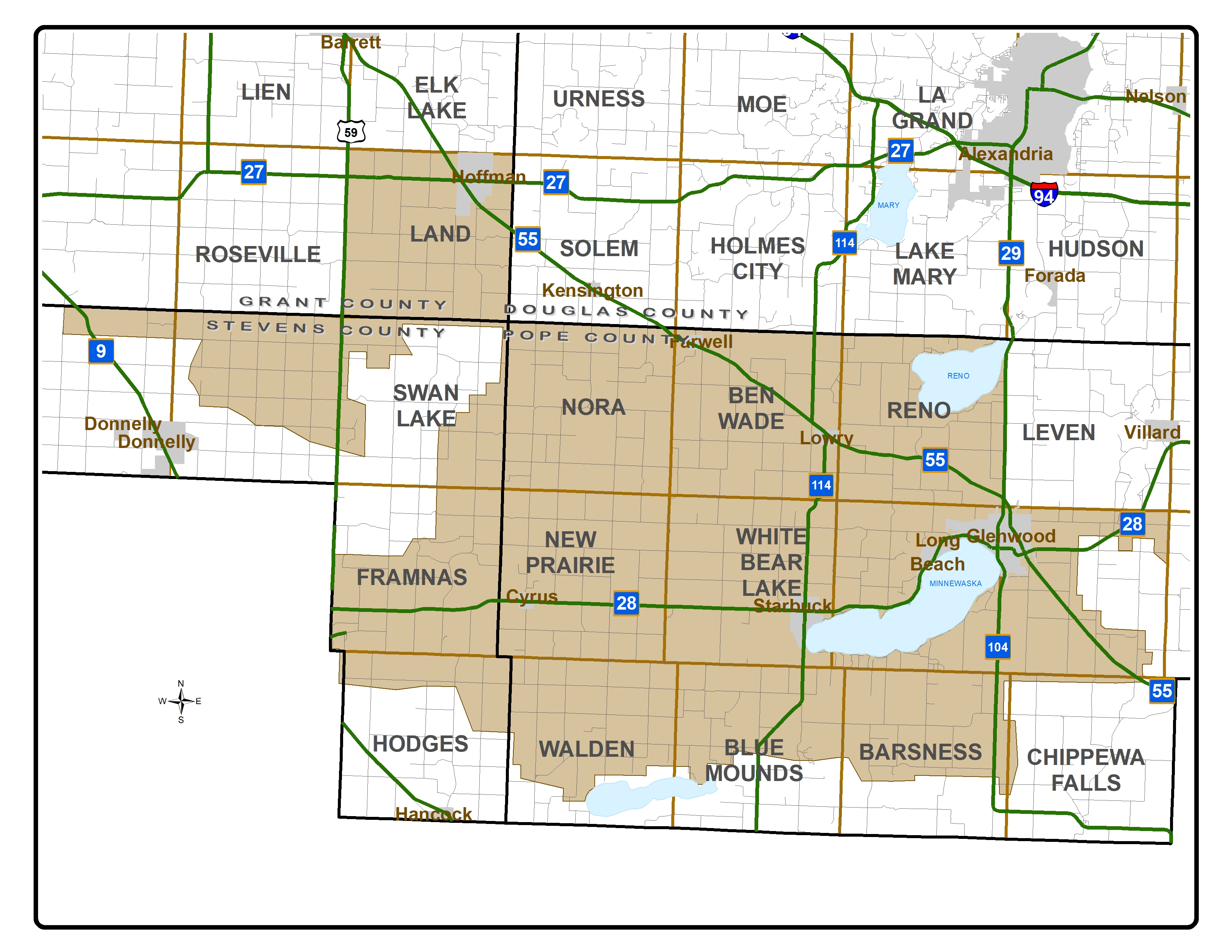 Due to the death of REA Director Steve Pederson, a vacancy exists on the REA Board of Directors in District 7 (see map to the right).
According to the Bylaws, the Board is able to appoint a member to serve as District 7 Director until the Annual Meeting in April 2020. This director, as well as other candidates, may choose to run in the election for the District 7 director seat that will serve a three-year term from 2020 – 2022. Director candidates can be nominated at the District 7 meeting in January 2020.
Members who are interested in the director position vacant in District 7 (please review the criteria below) are encouraged to complete a director candidate application available here or by calling REA at 320-762-1121 or 800-473-1722.
Completed applications must be received at the REA office by July 24, 2019.
Apply Now
---
Director expectations:
Attend all regular monthly board meetings, special meetings, district meetings and the annual meeting of the cooperative.
Read and be familiar with information, data and reports received from national, state and local associations.
Work in harmony with the board for the good of all REA members.
Director Requirements:
The Bylaws of Runestone Electric Association establish certain qualifications that must be met in order to become a director
Must be a member of REA.
Must be a bona fide resident of his or her district.
Must not be employed by or financially interested in a competing enterprise.
Must not have been found guilty of a felony within 5 years preceding or during service on the REA Board of Directors.
Must not have been an employee of REA within 5 years preceding nomination to the board.
Must not have been an employee of a statewide association of electric cooperatives, an electric generation and transmission cooperative, or any other entity in which an electric cooperative is a member within 5 years preceding a director candidate's nomination.
Within five (5) years preceding a director candidate's nomination or during his or her term if elected, was or becomes employed by a labor union which represents, has represented, or has endeavored to represent any employee of the cooperative;
Is not a close relative* of an incumbent director who is not up for reelection at that time.
Is not a close relative* of an employee of REA.
Is not a full-time employee or agent of another REA director.
Must have the capacity to enter legally binding contracts.
Must not be absent from 3 or more regular board meetings during any consecutive 12-month period, unless excused for good cause. If a director participates in more than one regular meeting during any consecutive 12-month period by electronic communication, that director shall be considered absent from that meeting for purposes of determining the number of the director's Unexcused Absences, unless approved for good cause by the Board.
*Close relative: is by blood, law, or marriage (including half, step, foster, and adoptive relations) a child, grandchild, parent, grandparent, or sibling); or is a spouse or resides in the same residence.
Apply Now