Over 400 REA members attended the Runestone Electric Association 83rd Annual Meeting at the Alexandria Area High School on Monday, April 22. During the business meeting, Board President Barbara Johnson and CEO Kristin Dolan gave reports on the activities and financial condition of the cooperative. The Cooperative reported assets of over $91 million with nearly 14,500 accounts at the end of 2018.
Learn more about the 83rd Annual Meeting
The members of the electric cooperative elect the REA Board of Directors.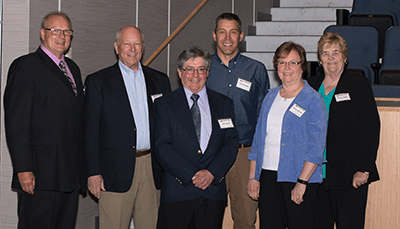 Pictured from left to right: District 1: Gary (Andy) Anderson, Parkers Prairie; District 5: Mike Loken, Alexandria; District 6: Clif Patrick, Alexandria; District 4: David Staples, Kensington; District 2: Barbara Johnson, Miltona; and District 3: Audrey Hjelle. Steve Pederson, Farwell, director for District 7, was unable to attend.